OVERCOATS
No wardrobe is complete without a smart made-to-measure raincoat or overcoat. Single- or double-breasted, and even available in pure cashmere wool. You can opt for the classic colours of camel, dark blue or black, plain or in a herringbone; but also for more outspoken fabrics, such as coloured checks or hunting and shooting cloths.


Chesterfield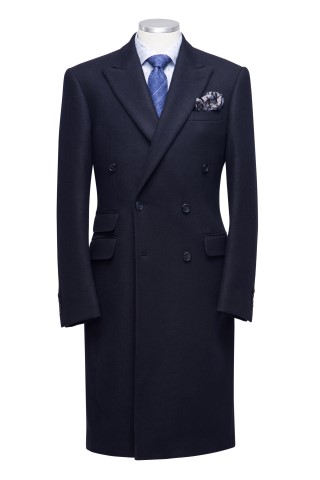 Chesterfield 2
Ulster 1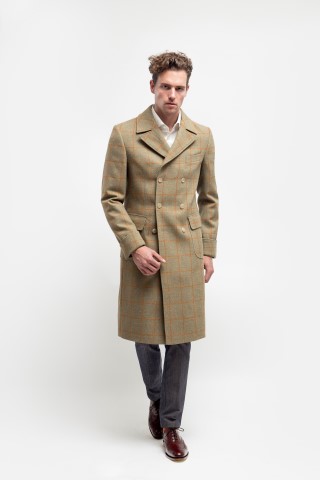 Ulster 2
Chesterfield
This classic business overcoat is named after the Earl of Chesterfield. The style of this coat has not changed much over the years. It can be worn both as single or double breasted coat and the length can be slightly above the knee for a contemporary look or slightly below the knee for more elegance. The cloth can be of any weight usually dark blue, grey or camel sometimes combined with a herringbone.
Ulster Coat
Typically in a heavy tweed material this style of coat originates from the Victorian times. A high closing, double breasted coat with notch lapels, a half belt and patch pockets with flap. The cuffs can be turned up for a more casual look.
Covert Coat
Recognized by the contrast velvet collar and the rows of stitching on the sleeves and the hem, the Covert Coat is the slightly younger brother of the Chesterfield. Traditionally made from the heavy Covert cloth in a light green or beige/brown shade. Nowadays one can also find the navy or grey versions.
It is usually worn on or 5cm above the knee.
Raincoat
The Raincoat also known by many other names has often changed in style over the years.
We have opted for simple lines, comfortable slanted pockets and adjustable cuffs creating a timeless elegance.
Pea-coat
This type of coat originates clearly from the Navy. It is usually a shorter, double breasted coat with the comfortable slanted pockets situated slightly above the straight or patched pockets. Typically the Pea-coat is made from a tightly woven, heavy cloth, which can be complimented nicely with a quilted lining. The button underneath the collar can be used to close the coat further during the more cold and windy days.