SUITS
Nowadays the two-piece suit is becoming an increasingly more important garment in your wardrobe. More and more people confess to be wearing a suit mainly when a meeting with the customers is on the agenda.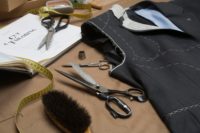 All the more reasons not to go to just any suit supplier but to devote some extra attention to this garment at Domhoff Travelling Tailors. As you realize a bespoke suit especially made for you will be helping you to keep and secure your customers as well as developing new ones making a confident impression.
Naturally the cloth selection plays an important part in the eventual success of your suit. Aided by our unparalleled collections from the most prominent cloth merchants in the business we are able to help you make well informed selection. We invite you to contact us so we can show you our collection and allow you to be well suited for your next business appointments.